Herd w/Colin Cowherd@TheHerd
The Eagles have the best roster in the NFL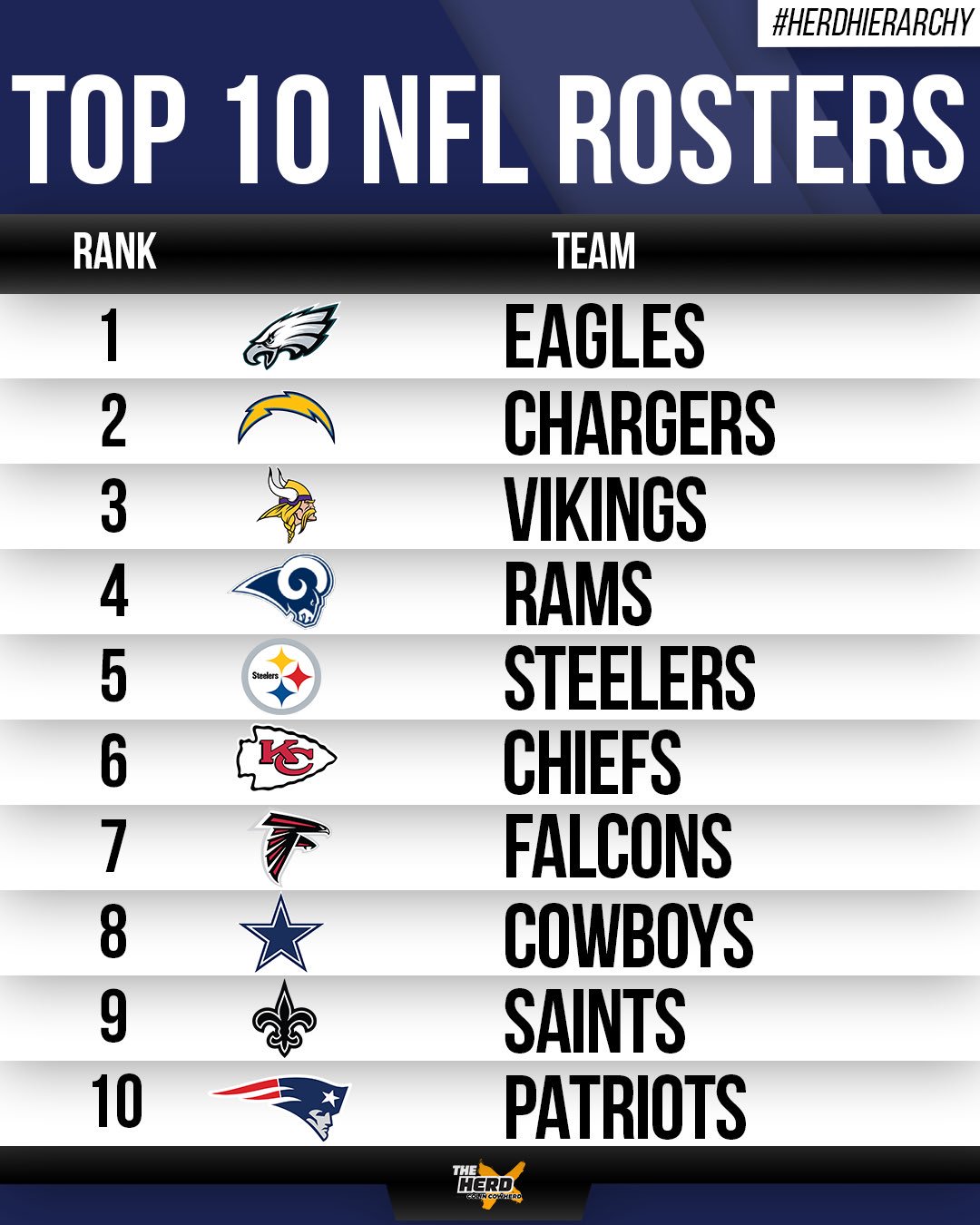 ---
I'm not big on vikes or chargers this year. Yes I believe they are playoff caliber but top of conference I don't think so.
---
I wonder where he had our roster last year. Looking at that might be telling how well his ability to actually gauge rosters. At least he managed to put the two superbowl teams in the top 10. Otherwise not so good.
---
Not much better ranking the NFC at the begging of the 2017 -18 season. These things are backward looking.
---
When it comes to the Rams, Cowherd is pretty legit. He was one of the few in the media who wouldn't jump on the Goff hate after his rookie season. During the season last year he also liked there chances to make it the superbowl.
As for his rankings, other then having the Chargers ahead of the Rams. I can't complain much.
Edit: the Cowboys shouldn't even be on the list, Jax should be, and the Patriots n Saints need to be ranked higher. I get premise of ranking rosters but this list is kind of odd actually, the more I look at it.
---
Bench Warmer
Posts: 26
Joined: Sun Apr 29, 2018 2:35 am
No offense to a great HC but there is no way the Chargers have a better roster than the Rams. Just look at the CBs They have Hayward on one side and Verrett on the other. No way is Hayward better than either Peters or Talib. Verrett has been ihjured more than he's actually played and he isn't as good as either Ram CBs. Their SS Addae is one of the worst in the league IMO. He's slow and can't cover worth a damn. Luiget is good but he's not even as good as Brockers plus Luiget is going to start a 4 game suspension. Sorry I would take Arnold over Bosa any day of the week. Then you have Suh to counter the impact of Ingram. Melvin is a speed rusher, but the knock on him coming into the NFL was his short arms. Throughout his very good career he's been plagued by missed tackles, because of those short arms.

I love Rivers and IMO he should someday make the HOF. But that stretch of a few years where everyone was saying he was done because he was a turn over machine a disturbing pattern emerged. Rivers is pretty much an immobile target. The one thing he can't handle is quick pressure up the middle. When he starts getting sacked and forced off his spot he will throw it up for grabs. Even though his oline is improved it's not that good....i.e. it's hardly elite. The Ram defense will kill that oline. Both their OT's are over rated. Okung is a slightly better than average LT. Barksdale is a subpar to mediocre at best RT. He can't handle speed and Ebukam will beat him.

Gordon and Allen are outstanding. But Allen has a problem with injuries. Last year is the only year in his career Keenan stayed relatively healthy. Their TE Henry is an emerging talent but he's not there yet. WR Williams was a bust last year. Tyrell Williams is a boom bust WR. He struggles if he has to hand catch. He catches way too many balls in his body which is why he loses most contested passes. Because of his need to body catch his catch radius is small compared to his length. He's still prone to running the wrong route even at this stage of his career. They have a couple of good inside LBs but again they are good not elite.

Year after year everyone over rates the Chargers but there is a culture of underachieving in this franchise and year after year they disappoint. Until they show they can actually deliver it's folly to rate them highly.
---
I hate to see us at 4, but I think the list is fairly accurate. I do think Jacksonville should be where they have the Cowboys, but otherwise it's not bad.
---
I watched the segment on tv - I think he sort of contradicted himself. He said that the Rams were the only team without any holes, yet he ranked them 4th.
I know that he's pretty pro-Rams, so I didn't take offense (not that I would anyway). I just thought his reasoning was a bit off.
I think he's correct about the Chargers, and I think he's off about the Eagles. I don't think the Eagles have the best roster.
Let's win some games.
---